Roadhouse is a popular well-established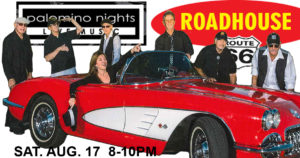 Tucson band comprised of members who have been together for over twenty-five years.  This group comes with a surefire guarantee to get everyone movin' and groovin' to our favorite dance music! Lead singers Frank and Debbie blend their vocals with the guitar sounds of Chris and Darrell, Pat's keyboards, Joe's harmonica, and Ralph's backbeat.  Together, these seasoned musicians deliver a variety of tunes ranging from rock to country to blues spiced up with an occasional dash of zydeco.  Roadhouse is sure to provide an evening of fun foot-stomping music for your listening and dancing pleasure!
As always, the concert is free with a same-day receipt from any Plaza Palomino store or restaurant, or $10 at the door benefits the Gospel Rescue Mission homeless shelters of Tucson.
Thank you for supporting local merchants, local music and local charities!