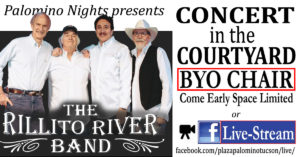 Come join us for one of the most popular bands in the Palomino Nights concert series line-up! We always have such a good time with this band – dancing and singing along to all of our favorites, in the beautiful main courtyard of Plaza Palomino. It's time to get out and enjoy yourselves…you deserve it! And live music is not only fun and entertaining, it's also SO good for us!
Russel, of the Rillito River Band, says, "If you like vintage rock n' roll, delicate three and four-part harmonies, dancing, and a general rollicking good time, we hope you can attend…and we hope to see you there!"
With room to spread out, come see why Plaza Palomino is one of the very favorite outdoor music venues in Tucson. Free entry with a same-day receipt from any Plaza Palomino store or restaurant, or $10 at the door benefits the Gospel Rescue Mission homeless shelters of Tucson. BRING YOUR OWN CHAIR for an evening of live music under the October stars. You're welcome to order dinner from one of our Plaza Palomino restaurants and bring it in to the plaza 🙂 for dinner and a show!
Participating Plaza Palomino merchants:
Maya Palace & Maya Palace Boutique – finest evening and bridal wear, and a beautiful selection of fun daywear
Vero Amore – Authentic Neapolitan Restaurant
La Contessa – fine ladies' apparel
La Placita Cafe – Oaxacan and Sonoran Cuisine
Abstrax Hair Salon and Day Spa
Trident Grill II – Sports bar & grill
Le Buzz Caffe – Breakfast & lunch
Flying Leap Vineyards Tasting Room
Simplicity Laser
Green Monkey – upscale consignment shop
$100 Plaza Palomino gift certificate and other Plaza Palomino gifts are raffled at each monthly concert. Tickets 3 for $5 – also benefits GRM.
Check us out online for the live-stream event or in-person – but get there early as seating is limited – and don't forget – BRING A CHAIR!! Sanitizing station provided.